ARTcade presents: Castle Arcade x Cardiff Illustration Society
In Cardiff we are very lucky to be surrounded by heritage, culture and the arts. From Cardiff Castle to the Welsh Millennium Centre. We are truly immersed in the Capitols' love for expression, diversity and community. At the Castle Quarter Arcades, we are determined to pioneer accessible artistic opportunities in the city centre for immerging artists; creating opportunities for those budding creatives and established thinkers, because after all, they are the creative future. In a recent collaboration with Cardiff School of Art and Design's Illustration department, Castle Quarter Arcades developed an opportunity for the Illustration Society to showcase their talents, their professional practice and fresh minds to Cardiff.
ARTcade PRESENT: 'All Hallows Eve'.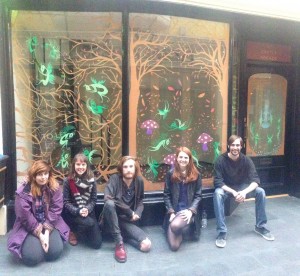 "With empty units, spaces and buildings running a wry in Cardiff, it felt right to bring something fresh into them, you know; really bring them to life with something important" Said Katherine Jones, Creative Assistant for the Castle Quarter Arcades Estate.
Katherine continues with; "The premise for building this connection with the emerging artist's really was to help give them a leg up. The arts community is a vast tight knit group, the best of the best. Sometimes accessing opportunities can be fraught with competition. The talent is so abundant in Cardiff, especially with such strong degree programs in the Cardiff School of Art and Design turning out such successful students year after year. What it really came down to was, how can the Castle Quarter Arcades, which is brimming with independence and creativity help independent communities of creatives introduce themselves into such a competitive world? This is the beginning of the Castle Quarter Arcades offering up space, time and canvas to those who are willing, ready and able to create a dialogue with fellow creatives. By no means is this a means to and end. We are not just filling up space. ARTcade is about curating spaces".
When approached the Illustration Society jumped at the chance to show Cardiff what they're made of. Designing three beautiful windows under the theme of the changing seasons and 'All Hallows Eve'. The team set to work and created three whimsical and fantastical illustrations.
Predominantly designed by Georgia Pearson, a Cardiff Illustration second year student; the ground work was in place to put the heart of winter solstice into the heart of our Castle Arcade.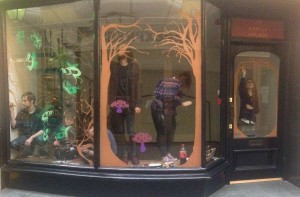 "We wanted to create something that depicted the narrative of the seasons change from Autumn to Winter", Explains Georgia. "Something that stepped away from the traditional witches and ghouls of Halloween".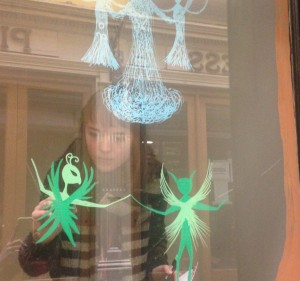 Each window represents a part of the seasons story, from hibernation to looking for winter and finally discovering the season of the winter spirits. Keen to make the work suitable for all, the illustration shows us the journey from darkness to light.
When asked: "Why did you want to take up the opportunity?" The group replies "Castle Quarter Arcades is what made me fall in love with Cardiff, all the independent businesses makes it such a quirky edition to the City Centre. The opportunities for young artists are all a little further out too, in Roath and Cathays. It's great to see something that supports our professional practice."         
As they begin to tuck into their welsh cakes, a well deserved break, they continue with; "Cardiff is such a friendly city. It's lively, not too overcrowded and there is so much to do. It really would be great though to see more opportunities like this, so that we can make outward links too. We want more empty spaces to be filled with art and opportunity. #ARTcade is great for this, hopefully we'll get a chance to come back!"
The finished piece will be displayed in Castle Arcade, Cardiff until the 1st December, if you would like to contact the Illustration Society you can reach them via illustrationsociety@hotmail.co.uk. You can also follow the hashtag # ARTcade for your chance to get involved with further opportunities.