ARTcade Present: Yellow Back Books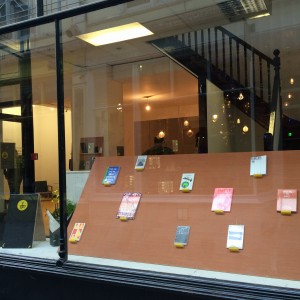 ARTcade presents pop up #1 : Yellow Back Books. As an accessible art initiative, ARTcade welcomed the opportunity to present and host the pop up artist Book Shop, Yellow Back Books. Being the first of its kind, (Artist Book Shop), the project stirred excitement amongst passers by as the three creatives set about putting together their innovative and unique addition to Cardiff's Castle Quarter Arcades.
When was the last time you 'encountered' something. Something that made you stop and think about things. Something tangible, that you could lose yourself in for hours. Somethings precious perhaps? In short, when was the last time you picked up a book filled with art?
Yellow Back Books set their sights on providing Cardiff with engaging books in a curated pop up featuring national and international artists from all walks of life. This open discourse amongst each book promotes an equality of choice, all jumbled together to make one conglomerate of raw talent, interesting reads and unique cover to cover books.
Louise Hobson, Becca Thomas and Sam Hasler are the three master minds behind Yellow Back Books. Determined to make an artists bookshop in Cardiff a reality, the three set their minds together in order to find out if it was what the people of Cardiff wanted. Low and behold, the response was immense. The demand for artist books is very real, with most visitors to the book shop wishing they were open for longer.
Quickly gathering attention on Social Media from large art organisations such as Artes Mundi, Made in Roath, Women's Art Organisation, CCQ magazine; Yellow Back Books even reached Made in Cardiff, CDF and Cardiff Radio. The response has been phenomenal.
Hosting events within their pop up, such as a private view and exhibition, the troop not only extended an arm to the local creative community but also to the curious passers by. Yellow Back Books not only have successfully added an insightful and wonderfully creative element to the Castle Quarter Arcades but have also help the ARTcade initiative, which is run by artist and creative assistant for the estate Katherine Jones, in providing a much needed insight into the desperate need for Cardiff's City Centre to be filled with art and creativity.