Miss Patisserie: Handmade parisian inspired beauty products
Miss Patisserie recently joined our High Street Arcade, and as of Saturday the 24th they are open for business. After successfully trading for six years, owner Charlotte has brought her bespoke company to Cardiff City Centre.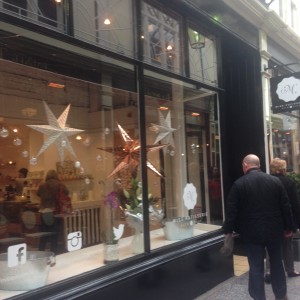 The interior is decorated with reclaimed wooden panels, giving it a chic and elegant aesthetic. She tells me about her visits to Paris, the inspiring beauty of the city as well as the delectable patisserie art she is very fond of. This immersion in European design has given Miss Patisserie it's look today, along with some helping paws from her beloved pooches, who regularly feature on her packaging.
A labour of love, Miss Patisserie started as a small 'side project', while Charlotte recovered from a broken leg. She immediately discovered a passion and flair for cosmetics, and set about finding ways she could take the Miss Patisserie brand further. After showcasing her wares at the Harrogate Home & Gift Trade Show, Miss Patisserie went from strength to strength, and the brand was truly cemented.
I asked Charlotte: "Why did you want to set up a business in the Castle Quarter Arcades; What do they mean to you?"
She replies: "Independent business is so important to support, and being in a community full of creative, successful businesses is such a great opportunity. The location is great, and the space is perfect next to Barker Tea House. Being in Cardiff city centre, where it is thriving, is going to make such a wonderful impact on our flagship shop"
I continue with: "I personally can't wait to try the Body Scrubs and Bath Balls, they look good enough to eat! What inspires the scents?"
Charlotte: "If it smells good together, I make it. My background as a beauty therapist helps a bit though, I suppose! But most importantly I think there's a real focus on making things that are going to compliment and cater to a variety of tastes, as well as making things that are going to work. Cosmetics are such a personal thing, as is scent. Making things that are going to make you feel good and uplifted are just as much a part, and it's different for everybody. Nothing is added that isn't going to help your skin, all the ingredients are active. I've noticed a real change in the way people are beginning to use cosmetics. It's not just about the next best thing. It's about finding things you love that work as well."
I say: "It's so lovely how you openly put face to product. On your website (click here) we see you and your hubby featured together. Do you think that being hand made means you need to show face?"
Charlotte: "Absolutely. My hubby Jorj put together most of the shops interior from reclaimed wooden panels that we get from the factory. Waste is awful so we try and waste as little as possible. Up-cycling has been such a huge feature of making the Miss Patisserie shop. I suppose you want to own something you're proud enough to put your name on. I like to think that this is what we've created here".
Me: "So lets talk Christmas, what are you expecting to be the most popular gifts?"
Charlotte: "That's a tough one. We have so much choice, from smaller gifts to ones that are a little bit more extravagant. I think the Macaroons will do well! However our gift wall has so much variety, it's hard to say! So far everything has been very popular."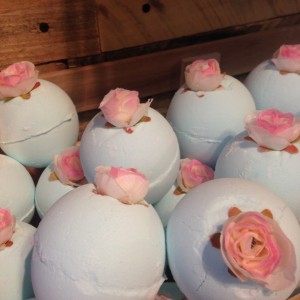 And finally, I have to ask: "What is your all time favourite product, and why?
Charlotte: "I couldn't pick just one! I'm a big fan of patchouli, so I do love our Sahara Body Scrub. Although I am a big fan of the perfumes. I think Crystal and Pink Quarts is probably a top runner."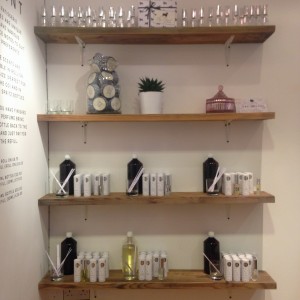 Miss Patisserie is now OPEN! We are very excited to welcome them to the Castle Quarter Community. Stay up to date with our event pages and social media to stay in the know about our upcoming events and news!